Luc Dernaucourt – Director of Gastronomy at Modry Las Golf Resort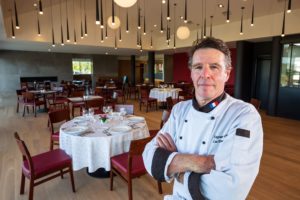 After working in France, Switzerland, Singapore, Hong Kong, Lebanon and Russia, experienced chef Luc Dernaucourt has reached another highpoint in his career after being appointed Director of Gastronomy at the award-winning Modry Las Golf Resort – The PGA National Poland. Since April 2019, Chef Luc has served his outstanding European cuisine to guests in a stunning, new clubhouse. We caught up with the exuberant Frenchman in the tranquil surroundings of his kitchen to find out more about his role.
You've been working at Modry Las for about a year now… what has impressed you most about the resort?
"Working at Modry Las, I have the freedom to do what I want and make what I want. I have the ability to choose what goes on the menu so I can provide the best possible quality for our customers… without limitations. This is wonderful for me. I now have a greenhouse where I grow vegetables and herbs. In fact, I have 36 different kinds of vegetables growing close to the clubhouse such as pumpkins, carrots, beetroot, horseradish, mint, coriander, cucumber, courgettes, aubergine and paprika. I also buy fresh eggs and chicken from a local farmer and organic salmon from our region, West Pomerania. The taste of the salmon is totally delicious and light. Using fresh local produce is very important to me as the food always tastes better and the quality is wonderful."
What kind of food do people enjoy in the clubhouse?
"The menu is changing every day – we will have a different soup, main meal and desert. Sometimes there will be two main dishes, depending on how busy we are. One of the most popular dishes amongst our golfers, both men and women, is our Cesar salad which has an extremely good sauce. In fact, we make all our own sauces in the kitchen, which is very important. We also do some very nice vegetarian bowls including chickpeas, goats cheese, beetroot and lentils. Salmon and trout is of course a firm favourite as are our pasta dishes. I also love to prepare a pièce de boucher which could be an entrecote, sirloin or beef tenderloin. For those who want to grab something to eat while out playing golf, we prepare baguette sandwiches – we even make peanut butter and jelly sandwiches which are popular at American golf clubs."
Yum – sounds delicious! What's the favourite tipple in the bar?
"Polish beer is very popular such as Tyskie and Zywiec. We also buy organic wine from two suppliers; one from Warsaw who supplies us with wine from France, Spain and Italy. In fact, his grandparents have a vineyard in south-west France. The other supplier is from nearby Stargard. He is a wine-lover who loves to travel and has struck up commercial relationships with growers in Spain and Italy. He returns with delicious organic wine from these countries, which is fantastic. A lot of people are now also enjoying gin, so we like to have a good supply… and of course, you cannot have a clubhouse without whisky or indeed good Polish vodka!
What is it like cooking in the new clubhouse at Modry Las?
"It is very nice to cook in a brand new facility, especially one with such large windows. It's very pleasant. Not only are there large windows in the kitchen but there are also large windows in the restaurant. I can see the customers too and can come out to talk with them. It is very good to have this interaction."
What is your stand-out memory of Modry Las so far?
"I was asked by clients who were staying overnight at the resort if I could prepare an early breakfast for them at 7am. The following morning, I walked into the clubhouse just as the morning sun started to fill the restaurant with natural light. It was amazing. Every day I enjoy its beauty. I also love it when my family are with me at Modry Las and we can enjoy the place together. That's quite special."
Do you have any time to play golf at Modry Las?
"Not really as I am very busy in the clubhouse but sometimes, when I am not working, I play the nine-hole Orli Las course as it's quick and beautiful. If I play the championship course, Modry Las, I seem to do well on hole nine, so that's my favourite. In fact, when I came to Modry Las, I started playing golf with my left hand, even though I am naturally right-handed, and I have to say; my game is a lot better!"
What plans are you making for the easing of the coronavirus lockdown?
"We do not know when the lockdown will be lifted but I imagine the golf course will open up first and the clubhouse will follow when restaurants in Poland are allowed to start trading again. When the golf courses open, we plan to provide take-away food for our golfers. We will also have tables outside with lots of space between them so our customers feel safe. We will disinfect the chairs and tables after each use. There will only be two people in the kitchen, each wearing masks and gloves and working as far apart as is practical. We will reinforce our disinfection procedures and implement official guidelines with a focus on tracking and fixing any coronavirus risk. We take this very seriously so that everyone feels safe."
How would you describe Modry Las in three words?
"Breathtaking golf club!"