The Clubhouse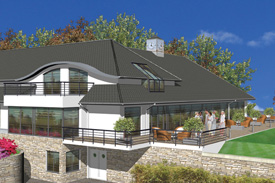 Today a temporary clubhouse provides a friendly centre of activity to guests with indoor and outdoor seating overlooking the large, open driving range and 18-hole course. The permanent Modry Las clubhouse is presently under construction and due to open in 2020. This contemporary structure will have a spacious restaurant with panoramic views over the 18th green along with a sports bar and lounges, extensive changing facilities and a specialist golf boutique.
The clubhouse will be at the heart of Modry Las and a focal point for both members and guests.
The Modry Las clubhouse will have 11 luxurious guest suites providing on-site accommodation just yards from the first tee and last green. A gallery and indoor golf practice studio with a state-of-the-art simulator will cater to every taste and pastime.
A team of architects from the US., Switzerland and Poland designed the structure to incorporate all the comforts of a country lodge. The members' lounges will offer the warmth of a roaring fire as well as exquisite views of sunset over the tranquil Radun Lake. There will also be the option of an intimate private-dining room as well as a 60-cover restaurant featuring international cuisine served with Polish hospitality.