Modry Las Golf Resort | PGA National Poland sets its
sights on a positive 2021.
10/02/21 – After an unprecedented year, Modry Las Golf Resort | PGA National Poland is looking forward to a new golfing season following a string of exciting developments at Poland's only signature-designed golf course.  As well as enjoying its PGA National status and new clubhouse, the 27-hole facility has recently welcomed a new general manager and received recognition from one of Europe's foremost golf publications teeing up what is anticipated to be an upbeat 2021.
Golf World's latest rundown of top resorts in continental Europe included a notable new entry with Modry Las debuting in the renowned Top 100 Resorts chart alongside some of the world's top golf destinations. The inaugural listing included a glowing review that described the Gary Player design as "fabulous" and "elegant".
One of 11 new entries, Modry Las was noted as having "flair and imagination," with the renowned publication praising the "unfussy course chalets which offer a view of the manicured fairways and greens as soon as you pull back the curtains in the morning". Crucially, the analysis suggested Modry Las would appeal to golfers looking for "a high-calibre modern course in fabulous condition", and went on to applaud the accommodation options. "We loved the chalets, nestled in the silence of the woodland that surrounds the course."
Modry Las also fought off competition from around Europe to be named in the top three resorts for value – a remarkable achievement in its first listing. According to the chairman of Modry Las, the praise reflects the ongoing improvements made at the resort despite the disruption caused by Covid-19. "Even with the impact of a pandemic, we are delighted that the reputation of Modry Las continues to grow along with our determination to evolve and develop," explained Arthur Gromadzki. "Our inclusion in Golf World's Top 100 Resorts of Continental Europe and the appreciation for the great value we provide validates our endeavours which have already led to our PGA National status and recognition from the golf industry at the highest level."
He continued: "Golf World's Top 100 Resorts celebrates the very best golf destinations in Europe where the highest service standards and facilities are matched by exceptional on-course experiences. These attributes perfectly align themselves with the ethos adopted at Modry Las. It is therefore, especially gratifying to be recognised as one of Europe's leading golf resorts by one of its foremost magazines. Saying that, Modry Las is constantly moving forward and will continue to devise ways to finesse what we do."
As if to prove it, Gromadzki recently appointed Chris Duffy as general manager at Modry Las. With a wealth of golf club management experience honed in the UK and Qatar, Duffy was the ideal candidate for the role. "Chris is well known in the golfing world and brings a wealth of industry knowledge to Modry Las," explained Gromadzki. "His role at Modry Las marks the next stage in the evolution of the resort."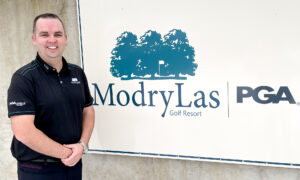 Duffy, who describes himself as a results-focused leader, was thrilled by the prospect of managing Poland's top resort. "The opportunity to work with the team at Modry Las came at an ideal moment in my career," he explained. "The resort's international reputation made it an unmissable opportunity to apply the knowledge and experiences that I have been fortunate enough to amass at multiple venues. The team here is fantastic and the courses are stunning."
Educated to a high level via the Club Managers Association of Europe's training programme, Duffy also developed his skillset through his own events company working with clients such as Mercedes Benz, BMW and Qatar Airways. He also held managerial posts at Doha Golf Club and most recently Huddersfield Golf Club.
Despite his impressive resume, Duffy admits that Modry Las came as a pleasant surprise. "Modry Las is the leading golf resort in Poland and now has PGA National status," he said. "Despite its international reputation, when I first visited Modry Las I was stunned by the quality of the courses and the new facilities which will only get better as we get further into the season. My role is to take an already excellent product and help it advance to the next level. It's going to be an exciting year and I'm looking forward to what lies ahead."
In 2019, Modry Las joined a distinguished collection of the world's leading golf resorts as The PGA National Poland, becoming the country's sole PGA branded property. This is noteworthy because the PGA restricts membership of its PGA National brand programme to one resort per country and prospective members are only approached if they offer the very best golf, leisure and accommodation. In addition, a new 2,000m2 clubhouse has been unveiled featuring 10 double bedrooms as well as the luxurious Gary Player suite bringing the total number of on-site double/twin rooms at Modry Las to 23. A new revitalising spa containing saunas, steam rooms and treatment rooms will open in 2021.